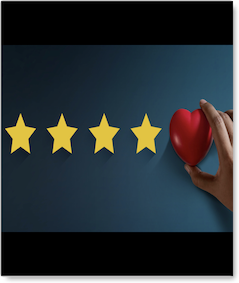 In today's hyper-competitive business world, having a quality product or service is only part of the equation for success. With competitors just a click away, customers are attracted to, and stick with, businesses who demonstrate an on-going commitment to caring for their customers' unique needs.

Through innovations in artificial intelligence and marketing automation, businesses can now effortlessly create and maintain on-going, personalized care relationships with customers, in ways that previously were not even possible to imagine.
A NEW REALITY
Picture a realtor or home contractor who doesn't just sell a house, but continues the journey with their clients by sending timely, personalized reminders on home maintenance, offering money-saving tips, and ensuring family safety for each client's specific home. Or envision an auto dealer or auto service provider who helps their customers maintain their particular vehicle and safeguard their loved ones, by providing on-going personalized tips for the client's particular driving patterns and weather conditions. Or insurance agencies, health care providers, and financial planners who stay connected to their clients by providing on-going personalized suggestions that are tuned to each client's unique goals and situations.

Such care and commitment breed loyalty. When customers feel valued and genuinely cared for, they no longer view transactions merely as exchanges of money for goods or services. Price becomes a less dominant factor in their decision-making process. Customer loyalty dramatically increases, and the relationship becomes significantly "stickier" and fosters more upsell opportunities. Moreover, these happy customers don't just return, they become brand ambassadors, sharing their positive experiences with friends, family, and their social media sphere. In essence, they become your business' unofficial marketing team, who love your business because they know your business loves them.

Compare this to DRIP campaigns, or spamming customers with ads or one-size-fits-all newsletters. This doesn't show care or love for customers. It borders on abuse.

Of course to be cost-effective, on-going communications with customers need to include ads for your business. But to engage customers and respect the care relationship, these ads should be personalized to speak to each customer's unique needs and situation. Plus better yet, the personalized reminders and tips that clients receive should be tuned to subtly promote the services you provide.
HOW IT WORKS
On-going, personalized tips and reminders that are specific to each customer's unique goals and situation . . . subtly tuned to promote your business . . . provided on an on-going, timely basis . . . consistent with local weather conditions . . . how is all of this even possible? This is where the marvels of sophisticated digital technologies come in. Through artificial intelligence and marketing automation, businesses can now maintain this genuine, personalized connection with each of their customers, in ways that were never even imaginable before.

As Jeff Arnold, the founder and president of RightSure Insurance Group, has discovered, this approach to generating customer love can be game-changing. "I stumbled on an AI marketing automation company, APPLICA Solutions, which has completely transformed our business. We're known for our Famously Friendly Humans, and combining this with APPLICA's AI-powered marketing automation is enabling us to hug our customers tighter and deepen the relationship with every single policyholder."

Like the old adage "what goes around comes around," customers love businesses who love them. Through leveraging innovations in AI and marketing automation, businesses can now easily provide on-going, personalized care that generates this love and translates into real business growth.
---
Add your comment here: